Call us at 800 -767-7674
Design Your Dream Home
Order Our Where's Home For You Plan Book »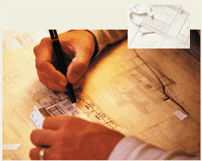 Design Options
Our in-house team of design professionals can work with you to create the ideal floor plan for your lifestyle, location, and budget. If you aren't sure where to start, you can choose from our wide collection of standard designs, modify an existing plan, or start completely from scratch for a signature design all your own.
IHC's designers have the experience to move through the design process with you in an interactive manner, ensuring that the home on paper matches the dream you've been planning. Whatever your needs, IHC can help you achieve your goal.
IHC Design and Engineering Services:
International Homes of Cedar has an in-house design department to facilitate the plan process for both modified IHC standard plans and custom residential and commercial designs. IHC uses the latest in computer technology such as Computer Aided Design (CAD) systems to both speed up design time, as well as to insure changes, if required, can be made quickly and forwarded to the customer. IHC's designs meet or exceed all national codes. In addition an Architectural Engineering firm is available, if required, to approve and stamp those plans that require additional review to adhere to local building codes. All IHC plan fees are credited towards the cost of your material package.
To help you get started in your planning, please take our brief "Dream Home" survey below:
Oops! Please correct the highlighted fields...